Report suggests football club 'sells UK fishing quotas'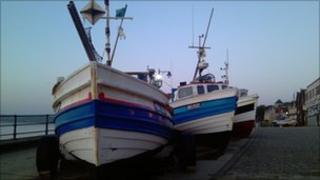 So what is the difference between a Premiership football club and a 40-year-old small fishing boat operating out of Filey in North Yorkshire?
Well, one can afford to buy a big slice of the UK's fishing quota and the other cannot.
That was probably the most astonishing allegation to come out of the recent hard-hitting report from a Select Committee of MPs on the state of the UK's inshore fishing fleet.
According to the report, slices of the UK's fishing quota are now bought and sold as financial investments.
The committee's chair, Conservative MP Anne McIntosh, says she has it on "good authority" that some of the quota is now in the investment portfolio of one of our top professional football clubs.
Money is made by leasing the rights back to those fishermen who can afford them.
Anne McIntosh told me that what amazes her just as much is that she has no independent way of confirming the allegation is true.
Who owns what?
There is no official register of who owns rights to fish in UK waters.
"We must have a register to determine exactly who owns the UK's fish quota," she told me in an interview which I recorded for BBC Yorkshire's Look North but was actually broadcast by every regional news programme watched in coastal areas around the UK.
The "quota market" has grown up since 1997 when the European Union first introduced strict limits on commercial fishing to conserve dwindling stocks of cod and haddock in our waters.
Ownership of the quota was handed to individual boat owners on a formula devised at the time.
Many of those boats have gone out of business since then but owners are allowed to sell on their quota.
"My Committee want to ensure that rights to fish in UK waters are available to our fishermen," says Anne McIntosh.
"This has to be looked at again."
Dwindling fleet
Filey is the fishing community that has bent the ear of Anne McIntosh the most.
It is not surprising as it is on the edge of her own Thirsk and Malton constituency in North Yorkshire.
Dave Wilkins is skipper and owner of the Margaret.
It is one of the last three traditional Filey "Cobles" still being launched most days from the slipway which leads straight onto the beach.
These small open-decked wooden boats with a crew of two or three used to make their living by catching cod.
When BBC cameraman John Anderson and I joined him as he was about to launch the Margaret we saw he had left his nets behind.
"Our quota is so small that we just don't bother fishing for cod much. You can't earn a living that way," Dave told us as we chugged out of Filey at dawn.
It would be hours before the first tourist set foot on one of the country's most popular beaches.
He and his crewman spent the next five hours bobbing about in increasingly choppy waters hauling in lines of pots for a catch of crab and lobster.
"It keeps us going but the value of the shellfish catch is much lower than cod. There's no way that income is going to allow us to invest in the industry or bring in young people."
'Slipper skippers'
He is angry that anybody outside of fishing can own the strictly regulated fish quota as an investment.
"They call them slipper skippers" he said. "They stay at home in their slippers earning money from quota they can't use themselves while we are not allowed to fish."
"Small boats like mine are allocated just 3% of the entire UK fishing quota," he told me.
He points out that around the coast there are 160 in the "under-10-metre" category of boats to share that meagre slice of UK quota.
"It is not enough to make a living. As it is allocated on a monthly basis it is not enough to bother putting the nets out.
"But we can't afford to lease any extra quota so we just get by with shellfish."
Others have not been able to even manage that.
A generation ago there were 18 Filey cobles. Now just two others launch alongside the Margaret.