High-speed rail backers in Birmingham sought by Hammond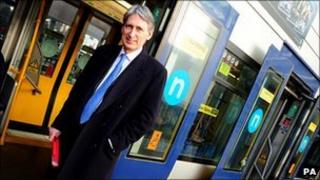 Transport Secretary Philip Hammond is in Birmingham later to gather support from the business community for the proposed high-speed rail link (HS2).
A public consultation for the route between London and Birmingham and then a second phase to Manchester is currently under way.
Some businesses see the project as an expensive white elephant while others have praised the economic benefits.
Meanwhile an HS2 roadshow is touring the route and is in Staffordshire.
'Voted to oppose'
Residents can look at the plans for the route, speak to engineers, environmentalists and property specialists from HS2 Ltd and the Department for Transport on Wednesday and Thursday at the Guildhall in Lichfield.
The roadshow has already visited parts of Warwickshire and Birmingham and about 40 are due to be held along the proposed route.
Protest groups have been set up by anti-HS2 campaigners in Northamptonshire, Warwickshire, Staffordshire, Oxfordshire and Buckinghamshire since the proposals were revealed in March last year.
Staffordshire County Council has already voted to oppose the £17bn plans, which would cut journey times between London and Birmingham to about 50 minutes.
Phase one of the consultation ends in July and it is expected a decision will be made by the government by the end of the year.