Nissan decision 'statement of confidence in UK economy'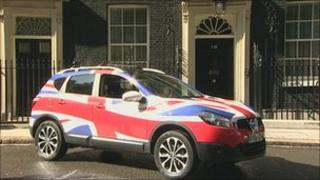 The decision by Nissan to invest £200m in producing the new model Qashqai in Sunderland is undeniably great news for the North East.
It safeguards 6,000 jobs and is a clear statement of confidence in the region and its workforce.
But the government believes it goes further than that.
The Business Secretary Vince Cable says Nissan's decision is a statement of confidence in the UK economy as a whole.
Not surprisingly then the Prime Minister was heavily involved in the announcement.
He posed for cameras outside 10 Downing Street with Nissan Chief Executive Carlos Ghosn, and a Qashqai decorated in Union Jack colours.
He was in an upbeat mood as well.
He joked that it was the first time he'd been behind the wheel of a car for a year - PM's never drive themselves anywhere.
He also suggested the patriotic British colours might make the car a perfect present for French President Nikolas Sarkozy.
But joking aside, this was a fillip for the government.
Private sector investment
Nissan might not be creating new jobs, but the coalition believes it is more evidence that its policies are creating the right conditions for private sector investment.
The government can now point to Nissan, the future reopening of the Redcar steelworks, and the investment by Hitachi in a train building factory in Newton Aycliffe, as evidence that the North East is getting the private sector investment it needs to offset public sector job losses.
Labour MPs though were less keen to give the government any credit.
They pointed out that there's no evidence that ministers did much to help.
Instead Sharon Hodgson, whose Washington and Sunderland West constituency includes the Nissan plant, says the investment in Wearside was a tribute to the workforce and not the coalition.
I'd love to tell you what the PM said to that, but unfortunately I wasn't offered the chance of an interview.
Earlier in the day though he had credited Nissan staff.
He said: "This investment from Nissan is fantastic news and a great demonstration of the strength and vitality of the UK car industry.
"That future manufacturing and R&D has been secured is a tribute to the skill, expertise and hard work of Nissan's UK workforce."
But of course the North East still needs more jobs.
It has the highest unemployment rate in the UK, and the jobless rate has continued to rise despite falls elsewhere in the country.
And welcome as the Nissan investment is, it is all about securing existing jobs rather than cutting into the dole queue.