Drug dealing cagefighter Vincent Graham snared by police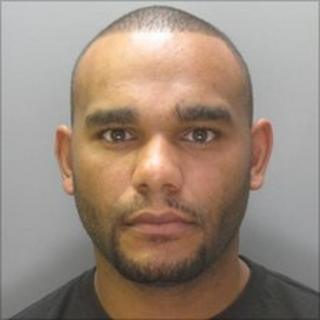 When former cagefighter Vincent Graham returned to the UK after being questioned over a kidnap plot in the Netherlands, he thought he was a free man.
He had not banked on Dutch police contacting their counterparts in the UK, asking them to carry out a series of raids on properties connected to Graham.
Officers discovered 25 kilos of benzocaine - a chemical used to dilute cocaine - in a house in Liverpool. Had it been used, the diluted cocaine would have sold for more than £1m, police said.
That discovery prompted Titan, the North West regional crime squad, to start a surveillance operation in late-2009, after he returned to the UK when Dutch prosecutors decided not to proceed with their case.
Less than a year later Graham, described by police as a "significant player" in the supply of drugs in the North West, was charged with conspiracy to supply cocaine.
The 33-year-old, of Linaker Street in Southport, has been jailed for seven years at Preston Crown Court, after pleading guilty to the charge in April.
Luxury lifestyle
Sylvester Nkemakolam, 46, of Moreton Close in Hackney, east London, admitted possession of cocaine with intent to supply and conspiracy to supply class A drugs. On Tuesday, he was jailed for seven years two months.
Two other men - Christopher Malpass, 26, of Linaker Street, Southport, and Paul Archer, 36, of The Walk, Southport - were also jailed after admitting their part in the drug dealing operation.
Archer received three years imprisonment and Malpass four years five months.
Undercover officers tracked Graham for about six months, while he was living a life of luxury, renting a five-bedroom house in an exclusive development in Brockhall Village, adjacent to Blackburn Rovers' training ground.
Graham, who lost his lower leg in a motorcycling accident, was driving cars worth tens of thousands of pounds, including an Audi Q7 and Nissan GT-R. Several jet skis, quad bikes and luxury motorbikes were stored in the garage.
Police watched as he checked his Nissan GT-R's wheel arches with surgical gloves.
On 27 May 2010, officers were waiting as Malpass and Archer pulled into a car park in Portland Street, Southport.
'Never in transaction'
Several minutes later Nkemakolam pulled up and Malpass handed over a stash of cocaine, police believe. The drugs have never been recovered.
They also watched as another man handed over benzocaine to Malpass. It was later found in Archer's bedroom, police said.
Nkemakolam was later seen leaving Graham's house in Lineker Street - where police say the transaction was completed.
He had travelled to Merseyside from his home in Hackney to hand over the drugs, police said. He claimed he had been sent the cocaine in the post from South Africa.
Police arrested Nkemakolam at his home in Hackney in October 2010, where they recovered a kilo of cocaine in the kitchen. Graham was arrested shortly afterwards.
Officers said Graham, who also owned a car garage in Runcorn, never touched the drugs during transactions, making conventional policing methods impossible.
The charges relate to the incident in Southport, but police believe he was involved in far more.
Det Supt Lee Halstead, of Titan, said: "The 20 kilos of benzocaine would indicate longer term investment in class A distribution and illustrates to me this has gone on for quite some time.
"Graham would portray himself as being the leader of a serious organised crime gang, involved in class A drug distribution of cocaine throughout the North West of England.
"He clearly thought from his activities that he was untouchable.
"His arrest and conviction will have a significant impact on the supply of drugs to the North West, and make the communities within a safer place to live."