South West housing market is 'mostly flat' says RICS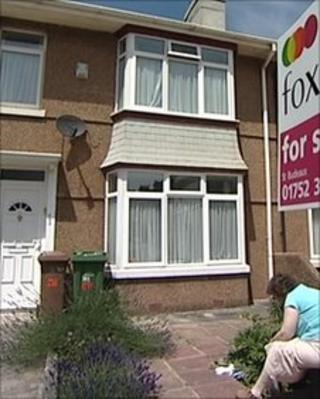 The housing market in the South West remains "mostly flat", the Royal Institute of Chartered Surveyors (RICS) has said.
Its Housing Market Survey found that more houses are coming on to the market in Devon and Cornwall but the number of completed sales has fallen.
It also found that in May 46% more surveyors reported house price falls rather than rises, the lowest reading since March 2009.
The survey covered January to May.
The average number of completed sales per surveyor fell to just 13 in May but the average number of properties surveyors have on their books has risen to 60.
Many properties are staying on surveyors' books for longer.
'Limbo land'
Plymouth-based Roger Punch, from RICS, said: "The market this year, while it had great expectations and was going quite well, just seems to be faltering a little.
"It's not going where we thought.
"It's the economy that's putting the brakes on at the moment."
Gillian Robins has been trying to sell her house in Plymouth for more than three years and has had to reduce her asking price by £30,000.
She told the BBC: "It's a little bit traumatic when people come and say they want to buy it and then say no.
"I'm in limbo land again, because that's what it's like, up and down like a yo-yo really."