Concerns remain over care for vulnerable children in Kent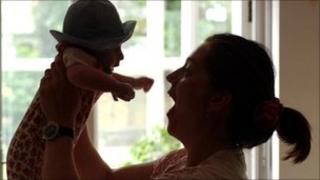 There's no doubt it's been a turbulent nine months for Kent County Council's children's services.
An Ofsted report last November concluded that children in Kent had been left at risk of significant harm by inadequate services in almost every area.
That prompted a public apology from council leader Paul Carter, who said the council had not been rigorous enough and promised it would do better.
But in April several councillors criticised the council's action plan, with one backbench Conservative councillor saying officials had "a cat in hell's chance" of meeting demands to improve services for vulnerable children.
Encouraging progress?
Last month the man brought in to overhaul Kent County Council's failing children's services, Malcolm Newsam, was called before the scrutiny committee.
He gave evidence about how they're improving and said he was confident they were making good progress, which he described as "really encouraging".
Now a report, which was previously confidential, has been released by the council. It warns that vulnerable children in Kent could still be exposed to risks.
The council have decided to release the report - perhaps in the interests of transparency, perhaps in an effort to show they are making progress.
While the report acknowledges the council has made progress and is doing as well as can be expected at this stage, it is clear that unless further action is taken the improvements won't last.
It also says that the council does not yet have in place "robust arrangements to sustain and build on the improvements secured".
And it says that the "the high rate of referrals to the service is unsustainable" and is leading to the service being "highly stressed".
In part this is because other agencies working with children and families are referring more cases than they should. This is often referred to as the "Baby P" effect.
Council funding cuts
Councils across the country say the number of applications for children to be taken into care rose dramatically in the wake of the death of 17-month-old Peter Connelly, who died after suffering sustained abuse despite being on Haringey council's at-risk child protection register.
As recently as February, Kent County Council had 2,200 children who hadn't been allocated a social worker for a month or longer. That's dropped to 65 in June, which is a significant improvement.
In part that's down to a recruitment drive - in April last year the council had a 29% vacancy rate for social workers - compared to less than 1% now.
But the recruitment process has not been without controversy either, particularly over its cost.
KCC, which is being forced to axe hundreds of jobs due to cuts in council funding has been paying up to £1,250 a day each for six temporary staff.
Malcolm Newsam, the new Interim Managing Director for Children, Families and Education, is the highest paid at £1,250 a day.
He's followed by Alastair Pettigrew, head of specialist children's services on £825 per day and Andy Roberts in the education and learning department who receives £780 a day.
No room for complacency
Concerns have also been raised in this report about the number of junior social workers - many of them newly qualified - taken on to tackle the backlog of cases.
The report states that more experienced staff should be recruited but says retaining experienced staff is proving challenging.
Speaking at a cabinet meeting about the report Councillor Jenny Whittle, who is the council's member for specialist children's services, said they have made significant progress since May but admitted there is no room for complacency.
The council says bringing children's services up to standard remains their top priority.
Interviews to fill the post of full time director for Children's Services are expected to be held next month.
There will be high expectations of the successful candidate.
They, in turn, will be in no doubt about the scale of the task facing them if they're to turn around the fortunes of KCC's children's services.
Surely, spending cuts aside, that must be the council's top priority to ensure it can protect Kent's most vulnerable children.