'No need' to shut path where boy was killed by branch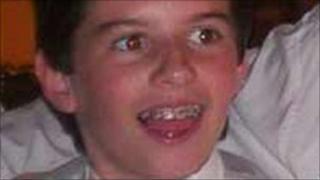 There was "no justification" for closing a Norfolk footpath prior to the death of an 11-year-old boy killed by a falling branch, the High Court heard.
Daniel Mullinger was among 10 children on a Monster Trail around Felbrigg Hall, near Cromer, when he was hit.
His mother Wendy, of West Bergholt, Essex, is seeking compensation from landowner the National Trust, which denies liability.
The court heard the path where the 70ft (21m) branch fell has since been shut.
Giving evidence before Mr Justice Mackay on Wednesday, Peter Griffiths, the trust's former director for east England, said there had been no reason to re-route the path before the tragedy in June 2007.
Although he had not himself inspected the tree and was not an expert, he said he had spoken to others at Felbrigg Hall who said changing the path had not been necessary.
"I don't believe there was justification for doing that, on the basis of the judgment of others," he said.
Psychologically scarred
The branch fell from a mature beech tree estimated at between 150 to 180 years old.
Earlier, the court was told that the accident had happened relatively early in the financial year, meaning funding would have been available for investigative work on the tree if required.
As well as Mrs Mullinger, three of Daniel's former classmates from Heathlands Church of England Primary School, who were severely injured in the accident, are also suing.
They are Harry Bowen, now 15, who suffered hip fractures and now requires a wheelchair; Max Farley, now 14, who fractured his wrist and was psychologically scarred by his ordeal; and Kate Farthing, now 14, who suffered leg and wrist fractures in the accident. All are from West Bergholt.
The hearing continues.