South West cycle routes linked 'could boost tourism'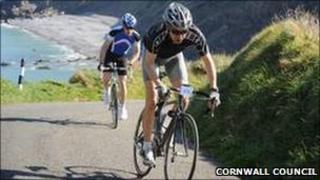 More than £7m of European money is to be spent on connecting cycle routes in the South West in a bid to attract more tourists to the region.
The project aims to create a network of cycle routes across Cornwall, Devon and Dorset and link them to France with routes to ports.
Cornwall Council is one of the 17 project partners and said it could help to boost the area's tourism industry.
The project is being paid for by the European Regional Development Fund.
Cycle West is the organisation behind the scheme and said it hoped to develop and promote cycle tourism throughout the region.
The scheme hopes to link routes, such as the Camel Trail, and establish a connection to Dartmoor National Park.
It estimates people will be able to use about 1,000 miles of cycle routes by connecting them together.
Cycle project manager for Cornwall Council Peter Sainsbury said: "We see cycling as a very valuable and sustainable way to boost visits into the county, especially during off-peak periods.
"It will help Cornwall to diversify away from the surf and sand holidays, and open up some of the most beautiful parts of the county to be explored."