Felbrigg Hall death tree showed 'no signs of hazard'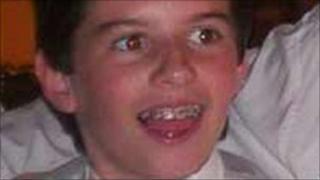 A branch which killed a schoolboy at Felbrigg Hall, Norfolk, showed no signs of being a hazard six months before it fell on him, the High Court has heard.
Daniel Mullinger was among 10 children on a Monster Trail around the hall, near Cromer, when he was hit.
His mother Wendy, of West Bergholt, Essex, is seeking compensation from the landowner the National Trust.
A National Trust volunteer told the court the tree had shown very little change during her 15 years at the site.
The National Trust denies liability.
Mary Gulham, a volunteer tree inspector at the National Trust Felbrigg estate, disputed that the 180-year-old beech tree's age and alleged state of decay had called for urgent attention at the time of the inspection.
Three of Daniel's former classmates from Heathlands Church of England Primary School, West Bergholt, who were severely injured in the accident in June 2007, are also suing.
Potential hazard
Jonathan Watt-Pringle QC, for the four families, suggested that Mrs Gulham's January 2007 inspection should have picked up key features which showed the tree was at risk.
She and her colleagues should have reported that the tree "posed a potential hazard" and taken steps to keep the public away, he said.
But Mrs Gulham, giving evidence on the third day of the action in London's High Court, replied: "I think we were aware of these features".
"All trees pose a potential hazard," she added. "There's no such thing as a safe tree."
Mrs Gulham said in her 15-year spell at Felbrigg Hall, the tree whose branch killed Daniel Mullinger had "changed very little" in appearance.
"It was large but in my opinion it had not changed much during that time", she told Mr Justice Mackay, adding: "I don't think there was a lot of decay there".
She and a colleague carried out two inspections of the fatal tree in January 2007 - the first a routine but "thorough" inspection on 2 January which rang no alarm bells, and the second on 22 January after a heavy storm.
Mrs Gulham said she had no recollection of the first inspection but added that the tree would certainly have been "tagged" as a public hazard, had it been one.
But she had a clear memory of the tree from her second visit, she said, rejecting suggestions that the fatal branch had appeared "weakly attached at the union".
"Our judgment then was that we didn't consider that the defect - or what we saw - was sufficient enough for us to tag the tree," she told the court.
The hearing continues.