Derriford Hospital: Redundancies 'would be last resort'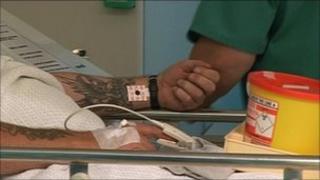 Managers at Derriford Hospital in Plymouth have said compulsory redundancy is a "last resort" as they look to shed 281 jobs.
The hospital said it hoped to move staff into other posts in the organisation.
Derriford said the jobs would be shed from across the trust.
Plymouth Hospitals NHS Trust said it had to save £31m during 2011/12 in order to bring its budget down to £379m.
Helen O'Shea, deputy chief executive and chief operating officer, said: "We want to be very clear, we do not intend to lose 281 of our staff.
"There are currently 250 vacancies within the organisation ready to redeploy people into. Compulsory redundancy is the absolute last resort."
The Trust's Annual Plan was released last month and detailed its priorities and savings for 2011/12.
The cuts in spending follow the coalition government's Spending Review in 2010.
The NHS is committed to making efficiency savings of £20bn over the next four years.
The Department of Health has said the savings would be reinvested.