Lord Macdonald says fair criminal trials 'imperative'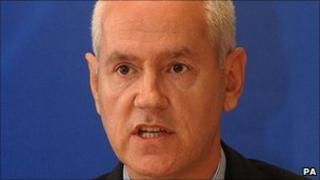 Defendants must be able to put their case - "however appalling" - fairly before a court, ex-director of Public Prosecutions Lord Macdonald has said.
His comments come after the criticism of the way Milly Dowler's parents were cross-examined in the trial of their daughter's killer, Levi Bellfield.
Surrey's Chief Constable, who oversaw the murder probe, called for changes to the way victims were treated in court.
But the former DPP said "the imperative is the defendant gets a fair trial".
'Fine line'
Lord Macdonald told BBC One's The Andrew Marr Show that a "key question" for the judge in a trial is the extent to which the cross-examination is relevant to an issue in the case.
"In a sense, even if it is distressing for the witness, the defendant has to be allowed to put his case.
"It can be a very fine line between cross-examination which is relevant and cross-examination which merely becomes offensive, and judges have to be alert to that."
Lord Macdonald said it was "never going to be a pleasant experience" for people to give evidence in cases such as Milly Dowler's.
"It is going to be a horrendous, gut-wrenching experience, and one can understand the public humiliation some of the family members went through.
"Defence lawyers have to bear in mind, if they conduct cross-examination in aggressive ways in cases like that, it can be a serious turn off for the jury, and therefore a profoundly mistaken tactic.
"I am not suggesting that is what happened in this case but the judge has to be alert at all times to protect witnesses, appropriately, but of course the imperative is the defendant gets a fair trial and he must be allowed, however appalling his case is, to put it."
Personal details
Bellfield was given a whole life tariff by a judge at the Old Bailey on Friday for murdering 13-year-old Milly in 2002, who was abducted from Walton-on-Thames.
Details of the Dowler family's private life were revealed during his trial, including the fact that Milly discovered pornography magazines at the family home.
During the prosecution's closing speeches, Brian Altman QC accused Bellfield of putting Milly's grieving parents on trial.
The Dowlers said they had suffered a "mentally scarring experience on an unimaginable scale" during his trial and that they paid "too high a price" for the conviction.
Reform rejected
Surrey Police Chief Constable Mark Rowley said the "dignity and care that is lost in the treatment of victims and witnesses in sensitive cases is startling".
He added: "I'm not saying never go personal, but if you go personal then for goodness sake, think about the dignity of the people involved."
And the current director of public prosecutions, Keir Starmer QC, said the case had raised "fundamental questions" that needed answering and said he would examine how victims were treated.
"We will be contributing to the review by the Ministry of Justice into all aspects of victim support," he said.
But John Cooper QC, a barrister, said: "If this was happening all the time it would be worrying - but it's not always as traumatic as this.
"Bellfield should not contaminate what is overall a decent system."
And Mark Leech, editor of the national prisoners' newspaper ConVerse, said: "There is no need for reform because the judge already acts as a safeguard to unnecessary and intrusive questioning."