Sport projects go head to head in National Lottery Awards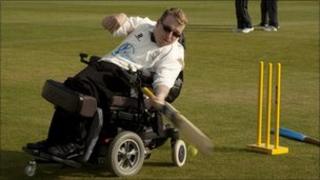 Three projects have been shortlisted as finalists for the UK's Best Sport Project in the National Lottery Awards.
One of the contenders, Bluebird Care Hampshire Disability Cricket, encourages disabled people to play the game or to become coaches.
The project is up against community sports initiative Active Newcastle and Chase Trails Cycle Project in Cannock Chase, Staffordshire.
The winner will be decided by a round of public voting in the autumn.
Six other awards categories include arts, health and education.
'Fantastic public support'
All the winners will be announced during a television programme broadcast on BBC1 later in the year.
Su Cumming of Active Newcastle, said: "It feels really great to know that we have such fantastic public support for what we're doing and I'd like to thank everyone who voted for us."
Jason Maclean, project manager for Chase Trails Cycle Project, which involved local people in the design, building and maintenance of cycle trails, said: "Lottery funding has been crucial to our project and it's great to have the opportunity, through the National Lottery Awards, to highlight the difference that money has made."
Greig Stewart, cricket development officer for the HCB Disability Cricket Project, added: "The National Lottery Awards recognise and celebrate the difference that Lottery-funded organisations make to local communities so this is a major accolade for everyone involved in disability cricket in Hampshire."
The public can vote on the National Lottery Awards website.