City centre parking charges increased in North West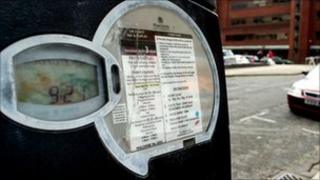 Car parking charges have increased in Liverpool and Manchester city centres following council budget reviews.
Motorists visiting Liverpool city centre will have to pay up to 57% more for on-street parking, with new standard fees of £2.20 per hour.
Meanwhile in Manchester city centre, on-street charges have risen 23% from £2.20 to £2.70 per hour.
The increases were announced by the city councils earlier this year as part of financial savings packages.
Manchester city councillor Pat Karney said: "I expect a lot of opposition to it. I won't disguise the fact this is bad news.
"My job is to make sure it doesn't damage 120,000 jobs in the city centre. I have to have a monthly report to make sure we're not damaging the economy in any way - but it is bad news and people will be angry."
A Liverpool City Council spokesman said: "This is the first increase for three years and follows a review of charges in the light of the difficult budget decisions we have had to make.
"The charges remain comparable and in some cases lower than other similar sized cities.
"Charges are used to help manage demand for spaces and make sure they aren't taken up by one vehicle for large periods of time."