Italian Job scene to be on De La Warr Pavillion roof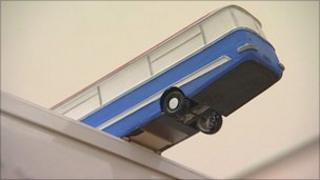 The last scene of the 1969 film The Italian Job is to be recreated on the roof of an arts venue in Sussex.
The sculpture by artist Richard Wilson will be installed on the roof of the De La Warr Pavilion in Bexhill as part of the 2012 Cultural Olympiad.
The work is titled Hang On A Minute Lads, I've Got A Great Idea and spectators will see a coach balanced on the edge of the roofspace.
The maquette for the sculpture is on display at the Royal Academy in London.
Alan Haydon, director of the De La Warr Pavillion said: "We have been in conversation with Richard for some years discussing ideas and opportunities for him to create something unique for the De La Warr Pavilion.
"Richard's proposal was simply irresistible and will most certainly create debate around our artistic ambitions whilst giving our visitors a new experience and perspective."
Some of Richard Wilson's previous works include a large disc sawn out of the facade of a building for the Liverpool Year of Culture and a section of ship moored near the Millennium Dome in 2000, cut vertically to show its cross-section.
Mr Wilson said: "I wanted the building to be part of the work and viewing the coastal horizon made me aware of the building's edges.
"Producing a cinematic moment that can become a sculpture was not just about a structural daring but more a metaphor about the absolute limits of anything, being engaging."
The title of the work is taken from the final sentence of the film, spoken by actor Michael Caine as he tries to devise a plan for saving the gold and his fellow conspirators from tipping into a steep alpine valley.