Olympics 'bringing millions to Yorkshire's economy'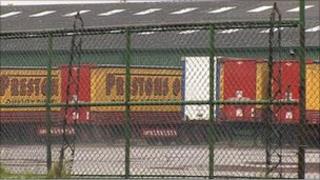 The 2012 Olympics in London are bringing millions of pounds into Yorkshire's economy, according to the regional committee for the event.
Yorkshire Gold said more than 200 firms had won contracts from the games.
Chris Harrop, from West Yorkshire building contractors Marshalls, said its contract had boosted staff morale.
Yorkshire Gold said teams would also be based in the region in the run up to the Olympics, generating at least an additional £3m to the economy.
Marshalls has supplied products to numerous projects at all stages of construction across the Olympic site.
Mr Harrop said: "It's probably been one of the worst recessions we've seen ever for the construction building material sector.
"The fact that we've been providing paving for the Olympic site has kept the factories in Halifax very busy and as we go forward there's more work to come."
Other businesses to have benefited include Scunthorpe-based County Turf, which has completed a contract to provide custom grown sports greenscape turf for the Olympic Stadium.
Managing Director Andy Fraser said: "The contract has been excellent news for County Turf as we have been able to safeguard existing jobs in a crucial time where the bulk of our business that is based in the building and housing markets has seen a large decline.
"Without specialist projects such as the Olympic contract, redundancies would have been inevitable."
Family-run business Prestons of Potto, based in Northallerton, North Yorkshire, has completed a contract to transport 1,500 vehicle loads of steelwork to the Olympic site.
Managing Director David Preston said it had brought "great stability" to the company.