Teachers' strike breaks the mould in pensions battle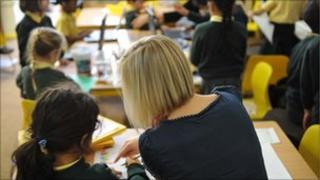 It used to be as predictable as the first cuckoo. 'Teachers in strike call'. But unlike our feathered friend, it almost invariably failed to materialise.
So what has changed?
The battle over pensions challenges some old stereotypes which has seen some unions labelled as 'moderate' and others as 'militant'.
The Association of Teachers and Lecturers, long seen as a restraining influence against strike action, is now making much of the running in this increasingly bitter dispute with the government.
'Immoral' to strike?
There is even speculation that some school heads feel so sympathetic for their teachers that they may even consider crossing to the other side of the barricades if this dispute remains unresolved into the autumn.
There must be something about this pensions issue which cuts clean through conventional assumptions.
Michael Gove says it is 'immoral' for teachers to strike, but one teachers' spokesman told BBC WM today that he had a 'moral duty' to do exactly that.
He had to show his pupils it was important to stand up for his principles in the face of a government which he said was reneging on its own commitments.
But what of the substance of the pensions issue itself?
One of the recommendations by the Labour peer Lord Hutton that is causing most concern in educational circles is his proposal that the Teachers Pension Scheme should be available to teachers in the state schools, but not to their counterparts in the likes of Cheltenham Ladies' College, Shrewsbury and the Warwick Group of schools in the independent sector.
There's a long tradition of teachers moving back and forth between the two sectors, which many educationalists believe has benefited all concerned.
If the Government adopts Lord Hutton's recommendation, they could well be accused of putting at risk one of their own most cherished educational ambitions - to transfer at least some of the best characteristics of independent schools into those in the state sector.