MP calls for hospice care in Great Yarmouth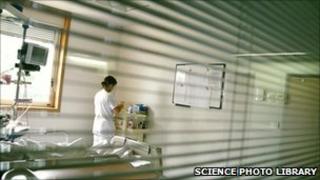 For many years there has been a long running campaign to provide a hospice for Great Yarmouth, and now it has been taken to Parliament.
The town's Conservative MP, Brandon Lewis, secured a special debate at Westminster where he set out how serious the problem is.
"Norfolk, outside of Norwich, has no inpatient hospice provision, whereas other councils in the Eastern region have much better provision.
"For example Suffolk has two, one in Bury St Edmunds and one in Ipswich. But with a population of around 230,000 the Great Yarmouth and Waveney PCT area is significant in not having a hospice," Brandon Lewis told MPs.
End of life care in the area, he said, was either available at home or in hospital.
Special case argument
The gap exists despite attempts to help.
A local charity, East Coast Hospice, has plans to build a 10 bed hospice in the town and has so far raised half the money that's needed.
Mr Lewis and his colleagues wanted to draw ministers' attention to the problem and hope there might be a bit of government help on offer.
Peter Aldous MP, in the neighbouring constituency of Waveney, also argued that their part of the region should be seen as a special case.
He said: "The East coast has long been a popular retirement area. I don't begrudge people moving into the area, indeed I welcome them, but the government must realise they do place an added financial cost on those providing health services which must be reflected in the funds made available."
Mr Lewis said there had been historic problems arguing the case for the need for hospice provision.
He also spoke about fundraising problems: another charity in the town, Palliative Care East, is also trying to raise money for end of life provision (but not inpatient beds) and that sometimes confused people who didn't know the difference between the two.
Westminster debate
The House was also told that just £2.62 per person is spent in the Yarmouth and Waveney area on end of life care, one of the lowest figures in the country.
Not surprisingly, the Health Minister, Anne Milton, didn't have any more money up her sleeve.
In fact she didn't say much about the Great Yarmouth bid, telling the MPs to work closely with their local NHS.
But she did accept an invitation from Suffolk Coastal MP, Therese Coffey, to visit the area.
At least the MP succeeded in raising the whole issue on the Westminster stage.
Something may just happen.