School strikes: Views from the classroom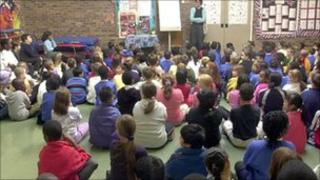 "I will be striking, but I'm not going to be on a picket line, it's anti-professional, I think it's almost delinquent," was the view of one West Midlands teacher.
For Paul Haywood, a history teacher at Windsor High School in Halesowen, Thursday is no holiday.
"There are rallies going on in Birmingham and I am going to a meeting because I want to know what's happening," he said.
Mr Haywood has been teaching for 35 years and is joining thousands of teaching colleagues on Thursday who are planning to strike over pay and pensions changes.
"I feel obliged to go out because of the younger staff," he said.
'No case'
"They don't want to give up a day's pay. Some of them have been saying we cannot afford this strike, but they will come out and so will I."
More than 3,500 schools in England and Wales have announced they will close and 2,600 others have said they will partially close due to industrial action by the Association of Teachers and Lecturers (ATL) and the National Union of Teachers (NUT).
The coalition government said public sector reform was necessary to stop the pensions system from "going broke".
It said because people were living longer, the cost of funding public sector pensions was becoming "unsustainable".
It is asking most public sector workers to increase their pension contributions, work until they are older, and accept a pension based on a "career-average salary", rather than the current final salary arrangement.
The ATL said the proposed plans would mean teaching staff working for longer for less income.
Redditch Conservative MP Karen Lumley asked the prime minister in the Commons on Wednesday: "What does my right honourable friend say to the teachers at Vaynor First School who are putting the education of the children first and the welfare of the parents by not striking?"
Mr Cameron said: "I would congratulate them for doing the right thing and for keeping their school open.
"I don't believe there is any case for industrial action tomorrow not least because talks are still ongoing.
"It is only a minority of unions who have taken the decision to go ahead and strike, well what I want to see tomorrow is as many mums and dads as is possible, able to take their children to school."
Mr Haywood said: "It's a personal choice at the end of the day. ATL has a conscience clause and I know of other colleagues who are bringing their children into work because their school has closed.
"We're professionals, we want to do the right thing, we want to look after children, we want to teach, but why should the government be able to use that against us to say because they're in debt, they can take a chunk of our pensions?"
Parkinson's carer
Russell Cousins, an honorary senior lecturer in French at Birmingham University, said: "I think its a Tory-driven agenda. I won't buy into the argument change needs to come so fast.
"It's the speed of this that is unnecessarily quick. People need time to adjust and if you are going to pay lower pensions you may need to pay them higher wages to help with the transition.
"It's the hypocrisy of this government that gets me. They say we have to reduce the public debt so that we don't pass it on to our children, but what are they doing? Landing them with massive student debt in the form of tuition fees."
Chris, from Warwickshire, was an English middle school teacher in Leicestershire who went on to become a teaching consultant. She is married to a retired teaching consultant and is taking a career break to look after her father who has Parkinson's disease.
She said: "We've had to remortgage so that I can help my my dad - I guess we're part of the Big Society.
"My husband was a teacher for 40 years and will be nearly 70 by the time we have paid the mortgage off.
"When I get to 70, who will look after me? Who will pay for my care because on £4,800 per year I certainly won't be able to afford to?"
'Intensive, stressful job'
Religious education teacher Iain Grant, from Kings Heath, Birmingham, said: "I am not striking for pensions, I am not striking for pay.
"I am striking because teachers will have to work until the age of 68. Energy-wise, it is an intensive, stressful job - you are constantly active.
"The other thing is, ideally, teachers need to be able to relate to the young people they are teaching or be of a similar age to their parents' generation.
"Apart from the health issues, if they are in their late 60s they won't have the same cultural outlook as the young people and you lose that special connection.
"I think it is a problem if we are striving to give pupils the best teaching we can."
Mr Grant has been a secondary school teacher for nine years and is also member of the NUT.
Like many teachers, he is also a parent and will be spending Thursday looking after his six and 13-year-old daughters whose schools have been closed for strike action.