Sexual grooming: Yorkshire families welcome child exploitation report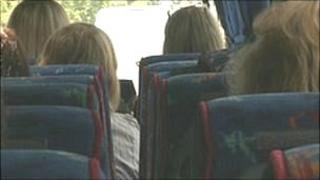 The official report into on-street grooming and sexual exploitation confirmed the fears of Yorkshire families who have been claiming for years the authorities are letting their children down.
After a six-month inquiry, the Child Exploitation and Online Protection Centre (Ceop) said that across two thirds of the country a strategic plan for dealing with criminal gangs preying on girls as young as 12 was either inadequate or non-existent.
Its report - Out of Mind, Out of Sight (.pdf) - calls on local authority child protection boards, social services and the police to make urgent improvements.
Every passenger on a bus trip from Leeds to the Houses of Parliament, who featured on the Politics Show the week before the report came out, could be heard shouting "we told you so".
Anonymity required
All of them were parents of young girls who had been cold-bloodedly targeted by criminal gangs who then raped and, in some cases, "trafficked" them into sexual slavery.
The parents were all members of the Leeds-based campaigning group CROP.
Its startlingly frank full name is the Coalition for the Removal of Pimping.
The parents' campaigning is extremely difficult to carry out as everything has to be done anonymously.
Our TV cameras were allowed on their bus; but only because we agreed to obscure faces and disguise voices.
Gangs still operating
There are two chilling reasons for this.
Firstly, their children have suffered enough without the trauma of what they have undergone being revealed to friends and neighbours who know nothing about their ordeal.
But even more important is their own safety.
The Ceop report confirms that arrests and conviction rates are so low that in many cases the brutal criminals who assaulted their children are still out there.
Children's charity Barnardo's has also been campaigning for major improvements in the way police, social services and schools implement strategies for detecting and dealing with grooming and sexual exploitation.
Cusp of improvements?
Barnardo's launched its own campaign in January 2011.
The charity says children are being failed on two accounts: by not preventing them from becoming victims in the first place, and again by the failure to catch and punish the abusers.
At Barnardo's Yorkshire headquarters in Leeds, Tim Bell told me: "The Ceop report might mean that we are on the cusp of improvements."
There are many victims and their families who hope he is proved right.