Navy warship HMS St Albans in Oman crew rescue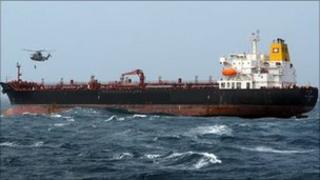 A Royal Navy warship has rescued 13 crewman from a stricken Indian tanker off Oman in an operation co-ordinated by Falmouth coastguard.
The crew sent a Mayday e-mail, picked up in the UK, to report that their vessel had been taking on water.
The Portsmouth-based HMS St Albans went to the tanker's aid and its helicopter winched the seasick crewmen to safety in rough seas on Thursday.
The rescued men were transferred to an Indian tanker to be taken home.
Ian Guy, watch manager at Falmouth Coastguard, said: "This was a desperate situation for the crewmen on board, who had been without engines for three days in severe weather conditions, and reported that several crew members had fallen seriously ill.
'Crew were grateful'
"Falmouth Coastguard has spent two days working with the Middle Eastern authorities to try and send aid to the stranded vessel, and are pleased that working with the Royal Navy, this has been achieved."
Commander Tom Sharpe, commanding officer of HMS St Albans, said: "As fellow mariners, if we are in a position to render assistance to a stricken vessel requesting our help, then we will do.
"The monsoon induced sea state had not been kind to the [tanker] and with no power and taking on water her master and the crew were grateful for our quick response and assistance.
"St Albans is out here as a presence to deter acts of smuggling or piracy but this tasking is just as important and can occur at any time."
HMS St Albans is on a six-month operational tour of the Indian Ocean and Arabian Gulf.