Paignton shop owner in knife confrontation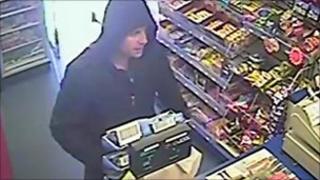 A 68-year-old newsagent has seen off a knife-wielding robber by producing a screwdriver and swearing at him.
Brian Hammond, who has run the News Shop in Paignton, Devon, for 15 years, said he reacted when the robber demanded cash from the till.
Mr Hammond said he was surprised when the man fled after the confrontation.
Devon and Cornwall Police has released CCTV pictures of the robber who they said was carrying a "butcher's-style" knife with a 6in (15cm) blade.
Mr Hammond said: "I came out of the store room and he was standing there with the knife. He demanded money from the till.
"I thought he was joking until he came around behind me and I knew he was serious."
Face shown
Mr Hammond said he was not prepared to hand over his hard-earned money and picked up a screwdriver from the counter and swore at the robber, telling him to leave.
Two years ago he chased two thieves who targeted his shop in Fisher Street. He said police had warned him he risked facing assault charges had he caught them.
"I am not having it any more. I didn't think about it, I just did it," Mr Hammond said.
The robber, described as white, slim and about 6ft tall, was filmed on the shop's CCTV during the incident at about 1310 BST on 13 June and police released pictures in a fresh bid to find him.
A police spokesman said: "A man entered the store and demanded money from the till whilst threatening the shop owner with a knife.
"The victim refused to open the till and the offender left empty handed."
He added the robber wore a dark blue anorak with a hood but "his face was exposed" in the image.