Shoreham airport: Pilot killed in planes collision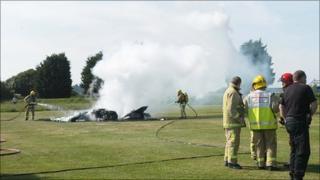 A 63-year-old pilot was killed when his light aircraft collided with another plane in the air and crashed near Shoreham Airport in West Sussex.
The man, from the Adur area, was declared dead at the scene after the plane crashed into Adur Recreation Ground and caught fire.
The other aircraft involved, a Diamond DA40, landed safely. Its two crew were shaken but uninjured.
Sussex Police said the dead pilot tried to avoid local houses before crashing.
No-one in the recreation ground, at about 1630 BST on Monday, was injured.
A volunteer worker at the airport said the planes collided shortly after one of them had taken off from Shoreham.
'Lump fell off'
"A plane had taken off from Shoreham and was heading out to sea and another one was coming west to east," he said.
"The one that was coming from west to east came straight across the front of the one that had taken off.
"I saw the wing hit the other one and a lump fell off.
"That aircraft actually managed to land again but the other one - it was just awful.
"It came straight down and a plume of black smoke went up."
Witness Rob Piatt, 41, from Shoreham, said he saw the tail fin of one of the aircraft fall to the ground.
"The poor pilot was weaving all over the place," he said.
"Then the aircraft went out of sight and we were just waiting to hear the explosion.
"There was no way he could have got out of it. He did very well to get it to the recreation ground and not crash in the airfield itself.
"It was very near a kids' playground and it is an area that's popular with dog walkers.
"On a gorgeous day like today there would have been loads of people out.
"It's a miracle no-one was hurt on the ground."
Sussex Police, who said wreckage was strewn over a wide area, cordoned off the crash site and land at Beach Green.
Part of the plane's propeller landed on the beach.
One of the planes involved belonged to Flying Time Aviation, based at Shoreham Airport, which trains pilots.
"Both of the pilots operating our aircraft were uninjured during the incident," it said in a statement.
"We are uncertain of the details at the present time and the incident is currently under investigation by the Air Accidents Investigation Branch and Sussex Police.
"We have been training pilots since April 2006. We have never before had a serious incident during the history of our flight training organisation and safety is, and always has been, our main priority."
The A259 was closed in both directions and traffic in the area has been badly affected. Police said the closure was expected to last some time.