Child and adult obesity on increase in East England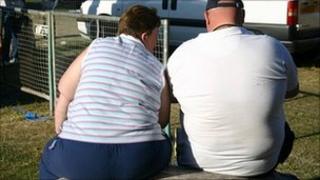 Obesity and the well being of young people are the main health challenges in the East of England.
Every year the number crunchers at the Department of Health publish what they call their "public health observations".
It is a snapshot overview of the health of the nation and it highlights the main challenges facing health professionals in every local authority.
There's good news and bad news for the East region.
Obesity problems
First the good news: we are all living longer and deaths from heart disease and cancer are falling. And with a few exceptions, deprivation levels are below the national average.
But despite that the report finds that 210,000 children in the East are living in poverty. The highest number, 32,415, are in Hertfordshire.
Obesity among children is also a growing problem with almost a fifth of Year 6s (aged 11) now classed as being obese.
The figures are highest in Bedford, the next highest is Peterborough followed by Northamptonshire and Southend.
The place with the lowest rate of childhood obesity is Central Bedfordshire.
Obesity among adults in the East is even worse.
A quarter of people in Norfolk and Milton Keynes are now obese and it's not much better everywhere else: 24.6% of people in Northamptonshire, 24.3% in Suffolk, 24.2% in Central Bedfordshire and Essex.
Even in Cambridgeshire, which comes bottom, 20.9% of adults are obese.
There's also concern about how much exercise young people are getting.
The number of children described as being "physically active" is significantly below the national average in Norfolk, Cambridgeshire and Hertfordshire.
Other health issues
The statistics for smoking are no better.
More than a fifth of adults in the East still smoke while the rate of women smoking in pregnancy is "significantly worse" than the national average in Norfolk, Suffolk, Essex, Northamptonshire, Peterborough, Central Bedfordshire and Luton.
Violent crime is "significantly above" the national average in Peterborough, Southend and Milton Keynes while Essex, Cambridgeshire, Peterborough and Northamptonshire have higher than average deaths and injuries from road accidents.
The two authorities with significant health problems in the region are Peterborough and Luton.
With higher deprivation levels and lower than average life expectancy, they face a variety of problems with significantly higher than average numbers of homelessness, long term unemployment, self harm and drug misuse.
The East has a lot going for it when it comes to quality of life and, for many people, health.
But there are still some real problems which need tackling, none of which will be easy to resolve.