Lonely hearts conwoman Loraine Upritchard misses court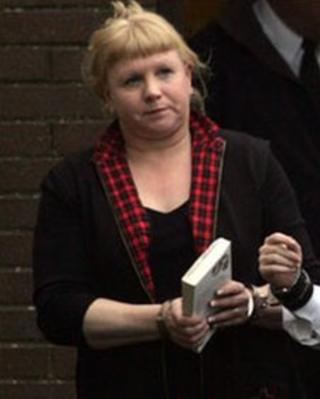 A warrant has been issued for the arrest of a woman who befriends men through lonely hearts columns before fleecing them of their savings.
Loraine Upritchard, 53, of Brighton Road, Horley, Surrey, failed to appear at Lewes Crown Court for sentencing on Tuesday for her latest offence.
She pleaded guilty in May to two counts of fraud and four of stealing cheques from widower James Saunders, 81.
Defence counsel Jennifer Gray said she was in hospital with chest pains.
The court heard Upritchard conned Mr Saunders out of thousands of pounds in 2008 and 2009 by telling him she was awaiting probate to be granted on her late aunt's estate.
Private detective
The judge warned her at the last court appearance that all sentencing options would be considered.
Ms Gray told the court Upritchard had had to attend an hospital appointment and was running late.
Judge Richard Brown said she must attend court by 1400 BST on Wednesday unless he received evidence she was medically unfit.
Upritchard avoided jail four years ago when she was sentenced to an 18-month community order at the same court.
She had pleaded guilty to swindling £2,200 from Eastbourne widower Leonard Hesling, then 67, whom she met through an lonely hearts advert.
Mr Hesling hired a private detective to find evidence against Upritchard after she failed to honour two IOUs.
Police said at the time they believed she may have obtained as much as £100,000 from men she had befriended.