Bath park-and-ride plans put on hold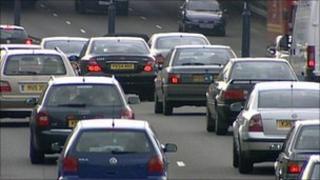 Plans for a new park-and-ride in Wiltshire that would serve Bath have been put on hold indefinitely.
Bath and North East Somerset Council now says it wants to look again at Bathampton Meadows as a possible site.
Previous plans there attracted huge opposition and the authority then proposed the former landfill site and a railway yard near the A4 in Wiltshire.
But that plan has now been mothballed because a government deadline of September could not be met.
'Lose investment'
Liberal Democrat-run Bath and North East Somerset Council (Banes) had previously said it wanted to avoid using the Bathampton Meadows option.
The Bath Transport Package (BTP) is due to be debated by the cabinet next Wednesday.
The proposals include scrapping plans for the rapid transit bus route through Western Riverside and cutting by half a planned expansion of the Newbridge Park-and-Ride.
Regarding the Wiltshire park-and-ride, which was proposed for near the A4 between Box and Bath, the council report says: "The new administration has indicated their wish to delete this element from the BTP.
"Alternative P&R sites are being considered but it is not possible to include a credible or deliverable option within the bid in the very short timescale remaining."
'No way'
Tim Warren, the Tory shadow cabinet member for transport, said: "These proposals will leave Bath without any real way of tackling its worsening congestion problems or delivering the economic growth and housing needed."
Lib Dem Roger Symonds, Banes cabinet member for transport, said: "We've not ruled out a park-and-ride to the east of Bath.
"What we want to do is to look again at the possibilities in the area, look again at other sites including having another look at the Bathampton Meadows which is in the setting of the World Heritage site.
"There's no way we can get a new park-and-ride sorted out by the time we have to submit this application by September," he added.