Degrees developed for overseas RAF medics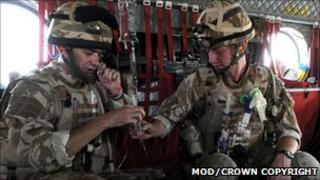 A university has been selected to provide distance education courses for RAF medical personnel posted overseas.
Anglia Ruskin University, which has campuses in both Cambridge and Chelmsford, will offer degrees for the medics from September.
The higher education qualifications in health and social care, and a two-year foundation degree, have been tailored to suit medics working in the field.
Future plans include developing post-graduate courses for RAF staff.
The courses can be studied entirely online and because of their training, RAF medics will be exempt from some modules offered to other students.
Tony Howard, from Anglia Ruskin's Higher Skills@Work team, said: "Our Anglia Ruskin/RAF distance learning courses are designed specifically to build the professional skills and knowledge to meet the challenges of operating in this arena.
"They will also ensure the continuation of a high-quality learning experience during overseas postings."
'Filling downtime'
The RAF employs around 600 medical personnel.
Flt Lt Ric Stubley, of HQ 22 (Training) Group, said: "We currently have RAF medics working in the Falklands, Afghanistan and numerous other countries around the world, as well as in the UK.
"We have an education centre at our base in Kandahar where medics will be able to access the courses via the internet.
"In fact, when RAF medics are on postings such as Afghanistan, studying for an online degree is a perfect way of filling their downtime."