Air Southwest moving Plymouth flights for month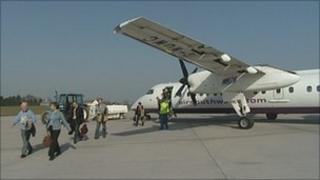 Air Southwest flights at Plymouth Airport are to be transferred to Cornwall for a month, the airline says.
Air Southwest said that it will transfer all of its Plymouth flights to Newquay Airport between 29 July and 29 August.
Ground transport will be provided for affected passengers and a timetable will be provided on the Air Southwest website, the airline said.
The airport, owned by the Sutton Harbour Group, is to close in December.
Air Southwest said the move was because a military radar service it used from the Plymouth Military Radar Station at HMS Drake would be unavailable during that time.
'Bitter blow'
But the director of Plymouth Airport, Terry Linge, said: "This station operates mainly during office hours and closes down during the summer for staff leave and this has been the case for very many years."
He said the airport had run for 16 years without radar services in August and could operate safely without it.
Tim Jones, chair of Devon and Cornwall Business Council, said the announcement was a "bitter blow" for the city.
"If you get a disruption like this for a month then it affects the whole position of branding Plymouth.
"It creates a very depressing position as far as the travelling public are concerned, and it will start creating a different pattern of travel for those used to flying out of Plymouth."
Professor Peter Gripaios, a regional economics expert, said the decision would make it "much harder to sell the city to potential investors and the tourists".
Eastern Airlines, which owns Air Southwest, said all those passengers affected would be contacted.
The airline has routes to England, Scotland, the Channel Islands and the Republic of Ireland.