Court 'likely' over Luton woman's 'burns in curry pot'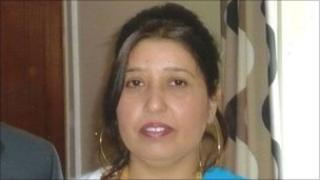 The case of a woman who received severe burns when she slipped into a cooking pot containing chicken curry is likely to go to court, solicitors said.
Sudesh Bala, from Luton, Bedfordshire, was working on an order to serve 500 people at an exhibition at the NEC in October, her solicitors, DBS Law, said.
The 47-year-old worked for Shobha UK Ltd and she was seeking compensation, it added. The company is in the process of being dissolved.
Insurance firm Ageas said it was aware of the case.
Unable to work
Birmingham-based DBS Law said Mrs Bala was seeking compensation from Ageas, the catering firm's insurers, and Ageas was denying liability.
The solicitors firm added she received severe burns to her back, groin and buttocks when she slipped into an industrial cooking pot containing 50kg "of steaming hot chicken curry" on 9 October 2010.
It said Mrs Bala, who had worked at the catering firm for 10 years, was alone in the kitchen in Luton and unable to get out of the pot or get the attention of her colleagues for some 10 minutes.
She has been unable to work since, DBS Law said.
The claims about the circumstances of the incident and the injuries sustained are disputed.
An Ageas spokesperson said it had worked for Shobha UK Ltd and was aware of the case involving Mrs Bala, but could not comment further because she had instructed lawyers.
A spokesman for East Midlands Ambulance Service said: "We were called on 9 October at 3.23pm to a woman who had fallen in a boiling pot.
"She was taken by paramedics from Luton to Luton and Dunstable Hospital with burns to her upper legs and buttocks."
Update 23 September 2011: This story has been amended to clarify the status of Shobha UK and to make clear that some claims are disputed. A further report on this subject can be found here.