Coastguards deliver Brixham station petition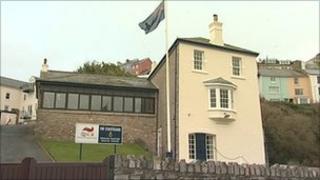 Coastguards in Devon have handed in a petition at Westminster in a bid to keep the station in Brixham open.
Under government proposals, three of the current 18 stations around the UK would stay open 24 hours a day, but Brixham would close.
About 6,500 signatures have been collected by the petition's organisers.
The government said the coastguard service was in need of modernisation, although proposals have yet to be finalised.
The petition was delivered at about 1400 BST on Thursday, the PCS union said.
Safety concerns
Mick Cooke of Brixham Coastguard said: "The people of Torbay and Brixham have kindly supported us in this campaign, so it's only fair that we deliver this petition to the minister himself."
Under the proposals, as well as Brixham closing, Falmouth in Cornwall would only operate in daylight hours.
A Commons transport committee report in June criticised the plans, saying they lacked support and would lead to a loss of local knowledge.
The Maritime and Coastguard Agency said change was needed but safety concerns must be addressed.
Under the government's plans, the 24-hour cover would come from centralised stations elsewhere in the UK.
Transport Secretary Philip Hammond said the service was in urgent need of modernisation.
The final proposals will be published later in the summer.