Peter Ridsdale sues News of the World over hacking claim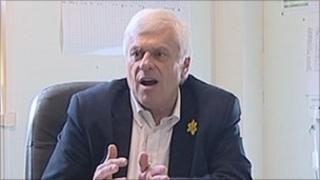 Plymouth Argyle's acting chairman Peter Ridsdale has confirmed he is suing the News of the World over hacking claims.
He said it related to an "e-mail hacking incident that happened over a year ago".
The former Cardiff City chairman claimed information was then published by the newspaper which could only have been sourced from his e-mails.
The News of the World told the BBC it would not make any comment until it had checked more details about the case.
"I have 24,000 e-mails and they had access for five days, I don't know what they sought, what they found, I just know what they used," Mr Ridsdale said.
He believed they used a password prompt to change the password and access his account.
Cardiff City
"They couldn't then change the password back and I was frozen out," he said.
Mr Ridsdale left Cardiff City in May 2010, where he had been chairman, and was brought in as an adviser for Plymouth Argyle in November of the same year.
"I think it [the publication] materially damaged my relationship with the supporters at Cardiff at the time because of the information that was published," he said.
The latest claims come after Prime Minister David Cameron on Wednesday said he would set up a public inquiry into alleged phone hacking.
The Royal British Legion also announced on Thursday it was to drop the paper as its campaigning partner.
The services charity said it was "shocked to the core" by claims the paper may have hacked the phones of bereaved military families, and was reviewing its advertising budget with the paper's owner News International, which also publishes The Sun and The Times.