Man wanted over suspected charity collecting fraud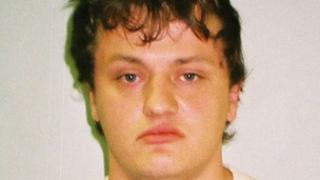 The search for a Shropshire man wanted by police in connection with suspected fraudulent charity collecting has widened.
West Mercia Police believe 28-year-old Nicholas Slocombe may have recently been in mid Wales and Lincolnshire.
He was arrested in April 2011 in connection with more than 30 allegations of fraud across Shropshire and Herefordshire.
A warrant was issued for his arrest after he failed to answer police bail.
Mr Slocombe, who is thought to use other names including Owen Roswell and Arron Renfry, is believed to be travelling round the country, having recently been in Lincolnshire and Powys, police said.
Money for troops
Pc Steve Perry, of West Mercia Police, is in charge of the investigation and is working with officers from Cheshire and Staffordshire, where similar incidents have taken place.
"We had reports from a large number of shops and businesses across Shropshire and Herefordshire in the early part of this year, saying they had been visited by a man claiming to be either collecting for or gathering sponsorship for a run in aid of a leukaemia charity," he said.
He said he had received reports from Lincolnshire Police of incidents in the Bailgate area of Lincoln. This time the person was asking for money for injured troops in Afghanistan.
Pc Perry said Mr Slocombe was believed to travel extensively across Britain, usually using trains, and could be anywhere.
He warned: "Always contact the charity they claim to be collecting on behalf of the check their credentials before handing over any money."
Anyone who recognises Mr Slocombe is asked to contact West Mercia Police.