Soldiers' families seek advice on hacking claims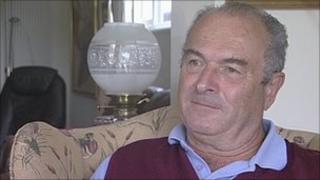 The family of a Kent soldier who was killed in Afghanistan are seeking legal advice after learning their phone may have been hacked into.
Robert Dicketts, whose son Oliver died in 2006, said he was very concerned to hear they could have been targeted.
Newspaper reports say personal details of bereaved relatives were found in the files of the private detective who worked for the News of the World.
News International said this Sunday's News of the World will be the last.
L/Cpl Dicketts, who grew up in Wadhurst, was one of 14 servicemen who died when a Nimrod plane came down near Kandahar in 2006.
His parents, who now live in Horsmonden, were awarded the maximum of £100,000 each in compensation last year after the Ministry of Defence admitted liability.
Mr Dicketts said their fears over the phone hacking revelations means their distress went on and they have instructed their solicitor to investigate the claims.
"I am completely amazed that a newspaper like the News of the World, which has shown tremendous support for the forces, could lower itself to employing somebody to do something which to my mind is despicable and will affect all the families," he said.
"They will all be in the same position as we are. Have we been hacked into? Have our numbers been listed?
"It adds just another burden on to what has already happened to all of us."
The mother of Guardsman Jamie Janes, who died aged 20 in October 2009 while on foot patrol in Afghanistan, has contacted the Metropolitan Police to see if her phone was hacked.
Jacqui Janes, from Portslade, West Sussex, disclosed after her son's death that then prime minister Gordon Brown mis-spelt his name in his letter of condolence.
Mrs Janes, whose son was killed weeks after arriving in Afghanistan, said she thought it was highly likely her phone had been hacked because of the high profile case.
She said she would feel "totally betrayed" if her suspicions proved to be true.
"Money wouldn't compensate me," she said.
"I would want to see whoever was responsible in court. It would be an invasion of my privacy.
"Do war heroes not have human rights? All they say is that we support our troops, but it doesn't feel that way."
News International has said it is co-operating with a police inquiry into hacking at the News of the World and is conducting its own investigation into the claims.
"If these allegations are true we are absolutely appalled and horrified," the company said in a statement, adding that its "record as a friend of the armed services and of our servicemen and servicewomen, is impeccable".
Announcing that this week's paper would be the last, James Murdoch said it had been sullied by behaviour that was wrong.
"Indeed, if recent allegations are true, it was inhuman and has no place in our company," he said.