St John Ambulance moves to get more life-saving kits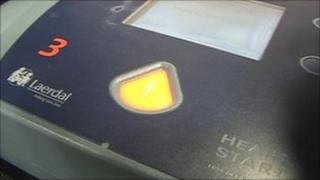 A campaign is under way to get more life-saving first-aid kits in businesses and public places across the East Midlands.
The region's St John Ambulance wants workplaces to make sure they have a defibrillator in case someone has a cardiac arrest.
A recent survey by the charity revealed one in five employees knew someone who had suffered a cardiac arrest at work.
It is now urging employers to get a machine and the training to use it.
Darryl Bagley, of St John Ambulance, said: "The machine is phenomenally easy to use.
"It's a case of pressing the on button, following the voice prompts, attaching the pads - and there are clear diagrams on the pads as to where they need to be attached - and pressing the shock button when it asks you to."