'No blame' call over boy's crush death in Norfolk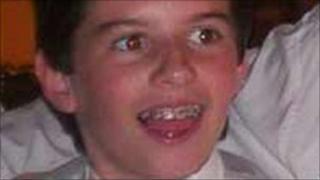 The death of a boy crushed by a branch in woods in Norfolk was a "terrible tragedy" for which no one can be blamed, a barrister for the National Trust has told the High Court.
Daniel Mullinger was among 10 children on a Monster Trail around Felbrigg Hall, near Cromer, when he was hit.
His mother Wendy, of West Bergholt, Essex, is seeking compensation from the landowner the National Trust.
The Trust's QC Stephen Worthington presented his final arguments.
Ms Mullinger is suing the National Trust for alleged negligence in failing to designate the trees as dangerous. Liability is denied.
'Experience tree inspectors'
Also suing the National Trust over the accident are: Harry Bowen, 15, who suffered hip fractures and is now heavily reliant on a wheelchair; Max Farley, now 14, who broke his left wrist and was left mentally scarred by his ordeal; Katie Farthing, 14, who suffered leg and wrist fractures, and was likewise traumatised by her memories of the accident.
On Friday, Mr Worthington told London's High Court that the two-ton branch showed no signs of fragility when last inspected five months before the incident.
He said two "highly experienced" tree inspectors who examined the beech tree in January 2007 and did their utmost to look for signs of danger.
"They knew these woods better than anyone," he said.
The four children struck by the branch were among a group of children from Heathlands Church of England Primary School, West Bergholt.
The claimants' QC Jonathan Watt-Pringle insisted that the tree bore clear signs of decay and fragility.
He also pointed out that the National Trust had taken a large number of "remedial steps" after the tragedy in relation to the trees at Felbrigg Hall - including a "significant increase in the level of tree surgery".
Mr Justice Mackay reserved his ruling and said he would try to give it before the end of this month.