Open Golf Championship served by high-speed trains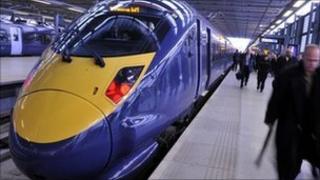 High-speed train services direct from London to Kent for The Open Golf Championship will run for the first time on Thursday.
The new services from St Pancras International to Sandwich Station have been set up to accommodate the 180,000 spectators expected to attend.
Journey times have been cut from about two hours 15 minutes to 80 minutes.
Additional early morning trains have also been put on to enable visitors to see the first golfers tee off.
The Open Golf Championship takes place at the Royal St George's golf course from 14 to 17 July.
A spokesman for Southeastern said: "This is one of the biggest sporting events in the country and we have been working very closely with the R&A [organisers of the championship] and with the emergency services to ensure that we will be able to help transport spectators to the golf.
"With so many spectators expected, we are anticipating that there will inevitably be some queuing at the station for those leaving in the afternoon and evening."