Staff curry burn firm: not in safety breach, HSE says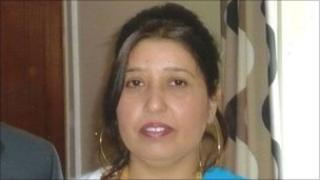 A catering firm whose employee was badly burned when she fell into a pot of curry was not in breach of health and safety laws, inspectors have said.
Sudesh Bala was employed by Shobha UK Ltd in Luton on a chicken curry order to serve 500 people at an exhibition at the NEC in Birmingham in October.
The curry was cooling down when she dragged it backwards across the floor and fell into it, inspectors said.
Ageas insurers said the firm denied liability. Mrs Bala plans to sue.
'Basic but adequate'
The 47-year-old from Luton, Bedfordshire, has hired solicitors DBS Law to fight for compensation.
It said their client had not had sufficient health and safety training and suffered severe burns to her back, groin and buttocks in the accident.
Shobha UK Ltd said it sympathised with Mrs Bala but could not accept liability for her accident on 9 October.
Ritu Sharma and her mother Shobha Sharma took over the company in May 2009.
Ritu Sharma said when they took over she trained all the staff in the correct lifting procedures and as a supervisor Mrs Bala had been given additional one-to-one health and safety training as well.
She said signs had been placed around the workplace to remind staff of the rules, written in their native Punjabi and in English.
An inspector from the Health and Safety Executive (HSE) visited the company premises on 7 December, 2010.
The investigation notes said the company's risk assessment and training records were "basic but adequate".
The notes said the floor was non-slip and one in five members of staff had been given safety shoes.
The HSE has closed its investigation but suggested that trolleys should be used to help staff move saucepans around the kitchen in future.
The company said it had implemented the HSE recommendations.
Although the BBC has spoken directly to the directors of Shobha UK Ltd, DBS Law said it did not recognise that the catering firm was still trading.
It said was in direct negotiations with the insurer and was contesting the defence the catering company had made.