Israel airport arrests: Campaigners due back in UK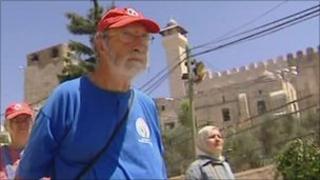 Two protesters held in Israel on their way to a demonstration in Bethlehem are expected to fly back to Luton Airport, campaigners have said.
Mick Napier, 64, Scottish Palestine Solidarity Campaign (SPSC) chairman, and John Lynes, 83, a retired lecturer from Sussex, are being deported.
They were among a group of 12 people who were detained at Tel Aviv's Ben Gurion airport on Friday.
The SPSC said Mr Napier and Mr Lynes were being deported on Monday evening.
The group had planned to attend events in support of Palestinians in the West Bank.
About 700 people from around the world had intended to visit Bethlehem on the invitation of families there.
'Denied information'
The Scottish Palestine Solidarity Campaign was co-ordinating the British arm of the visit.
In a statement released by the campaign group, Mr Napier said some members of the group had started a hunger strike.
He said: "Some of the men and women being detained started a hunger strike this morning because we were denied any information about any charges against us and were also denied a telephone call over the entire period we were in prison. But we are all in high spirits."
The group included five English people, three Welsh people and four Scots.
A Foreign and Commonwealth Office spokeswoman said: "We can confirm that a number of British nationals were detained at the airport in Tel Aviv on Friday.
"All the British nationals currently detained pending deportation have been visited by consular staff from the embassy in Tel Aviv and we have been in contact with families in the UK.
"We understand they will be deported in the next few days."
The English passengers were Mr Lynes; Audrey Gray, 77, a retired nurse from West Chiltington, West Sussex; Val Kitchen, 68, from Tonbridge, Kent; Anne Gray, 66, a retired academic from London; and Les Levidow, 61, an Open University research fellow who works in Milton Keynes.
The three Welsh passengers were Pippa Bartolotti, 57, deputy leader of the Wales Green Party; Dee Murphy, 56, from Swansea, founder member of Swansea Palestine Community Link; and Joyce Giblin.
The other Scots were Frank Thomas, 66, a retired statistician from Edinburgh; Ian Stewart-Hargreaves, who lives on the Isle of Lewis; and Joy Cherkaoui, a community worker from Dumfries and Galloway.
The 12th passenger, Fiona Williams, has also been identified as British, although her exact nationality is unknown.