Alvaston man rescues family from bin fire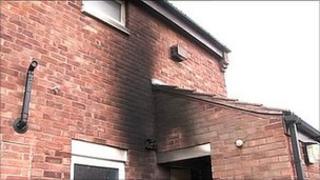 A man rescued his mother and brother from a house fire in Derby.
Firefighters believe the blaze, which started at about 0230 BST, spread from a bin in Griffin Close, Alvaston.
No one was injured in the fire but the house was badly damaged by smoke and fire.
Michael Haywood, who was woken by the noise of the fire, led his mother and brother to safety through a back window.
"I thought someone was trying to break in," said Mr Haywood. "I went to have a look and the hallway was full of smoke and the front door was on fire.
"It was terrifying, I have never experienced anything like it."
The family will have to move out while repairs take place.
Fire investigators are looking into the cause of the blaze.