Traveller sites: MP Priti Patel calls for fairness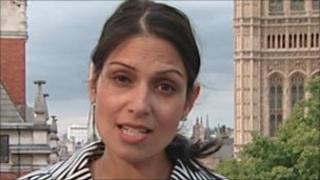 In a few weeks' time Essex will see the clearing of one of the largest illegal traveller sites in Europe when evictions are carried out at Dale Farm near Basildon.
Residents there have already been given 28 days' notice to quit, but there are fears the evictions could only serve to shift the problem elsewhere.
An Essex MP has called for more traveller sites to be built, saying there are too many illegal pitches.
More travellers live in this region than in any other part of the country. A recent survey showed only a quarter of this number are parked on legal sites.
Human rights
Conservative MP Priti Patel raised the matter in a Westminster Hall debate. She warned that her own government's policy was making matters worse.
"There are not enough authorised sites," she said. "If travellers had authorised sites they wouldn't need illegal sites."
She complained that appeals by travellers on the grounds of human rights led to long delays in dealing with problems caused by illegal sites.
"Local councils will now be deterred against taking action against other traveller sites. The system never seems even-handed," argued the Witham MP.
She claimed it wasn't a level playing field and that the settled community could not build without planning permission.
"Anyone else would have it taken down in two seconds flat, but gypsies get away with it."
Under the previous Labour government councils were told how many legal sites they should provide. Under the coalition councils can now to decide for themselves, but the number of planned new pitches has fallen by more than half.
Chris Williamson, Labour MP for Derby North, replied: "These debates tend to generate more heat than light but today good points were made. I want to make it very clear that planning laws should apply equally to the travelling and the settled community."
But he admitted: "There is a recognition that there isn't adequate numbers of legitimate sites. Putting the onus on local authorities who may think that there is no need might be exacerbated by the Localism Bill and therefore more authorised sites are needed and we want to see adequate provision.
"My worry is that localism might make that a little more difficult to achieve. We need to work with the traveller communities but it is a very thorny issue."