Man arrested in Yorkshire over Cornwall 'double murder'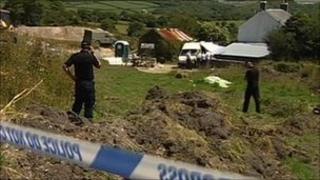 Detectives in Cornwall investigating a double killing have arrested a man in West Yorkshire on suspicion of murder.
The 25-year-old man was arrested in the Huddersfield area, police confirmed.
The arrest comes after two bodies, found by police investigating the disappearance of Brett Flournoy and David Griffiths, were recovered.
Ross Jan Stone, 28, of Trenance Downs, near St Austell, is already charged with disposing of a corpse to obstruct a coroner. He is remanded in custody.
A vehicle and human remains were first discovered by officers on farmland north of St Austell on 15 July.
Mr Griffiths, from Plymouth, who was living in Bracknell, Berkshire, and Mr Flournoy, a professional boxer from the Wirral, Merseyside, were last seen on 16 June in Cornwall.
'Fast pace'
It is believed they were were heading to Newquay but police said it was not clear if they had ever arrived there.
Mr Flournoy was known to have picked Mr Griffiths up in a van from the car park on the Plymouth side of the Tamar Bridge, at about 1900 BST the night they went missing, before crossing the bridge into Cornwall.
Det Insp Costa Nassaris, of Devon and Cornwall Police, said: "We can now confirm that we've recovered two bodies from the vehicle that was buried on farmland near St Austell.
"A post mortem examination has been conducted, but at this stage the bodies haven't been formally identified. This is expected to take some time.
"The investigation continues to move at a fast pace."
Det Insp Nassaris said the 25-year-old man will now be taken to Cornwall for questioning by detectives.
"The families have been updated on the progress of the investigation and our thoughts are with them at this terrible time," he added.
Mr Stone is due to appear at Truro Crown Court on 22 July.