Should MPs be asking the questions?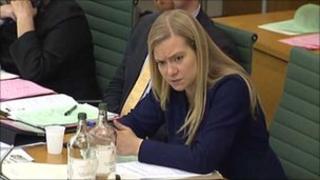 They are called witnesses. And in cross-examining Rupert Murdoch and senior Scotland Yard detectives, MPs have turned their select committees into the most dramatic of inquisitorial chambers.
But is it really a job we should be giving to our elected representatives? Are they up to the task? And how much of the power of these exchanges come from the televising of hearings?
Oxford West and Abingdon Conservative MP Nicola Blackwood was only elected at the last election and says she never expected to find a place on the powerful Home Affairs Committee within a year of reaching parliament.
She says that it has been "a steep learning curve".
Huge media attention
The eyes of the world followed her questions to the Met Police Chief Sir Paul Stephenson and John Yates before and after their dramatic resignations.
These hardened policemen were used to difficult interviews, though usually trying to extract their own confessions from suspects.
And the committee's exchanges were being broadcast live on rolling news channels, in this country and abroad.
Miss Blackwood says the committee were well aware of the attention.
"You're aware of the attention, because the room was packed, but I honestly did forget the cameras, especially when you get to the heart of the questioning."
What about the way Chairman Keith Vaz cut off some inquiries mid-flow, moving questioning around the room?
"You are under a lot of time pressure, because every one of the committee members wants to pursue their own line of enquiry."
The public's representatives
There had been criticism of earlier hearings for not asking sharp enough questions, or following up lines of enquiry.
The "Hacked-off" campaign group is advised by the Liberal Democrat campaigner for free speech Dr Evan Harris, who lost the Oxford West & Abingdon constituency to Conservative Blackwood at the last election.
Dr Harris has been calling for Lord Justice Leveson's enquiry, asking questions under oath, to start work even before the second police investigation is complete, saying "We see no legal requirement for this to wait until after police enquiries. To do so could damage its ability to get to the truth."
Nicola Blackwood agrees that the full public inquiry will bring a forensically detailed look at the evidence, but insists the MPs inquiries have their place.
"We are asking questions as non-experts, as representatives of the public.
"You can't prepare those questions in advance because you can't always anticipate the way that the discussion will go."
As a result of the scrutiny that started at the Home Affairs Committee both policemen have now resigned, acknowledging serious misjudgements.
Quick reporting
The committee's report was produced within 24 hours, after the 11 MPs sat all day hearing evidence.
At one point in their discussions they were interrupted by sirens and shouting in the next door room as the police dealt with the custard pie interruption to Rupert Murdoch's evidence.
Ms Blackwood says they were determined to get their enquiry completed.
"All those witnesses came at very short notice, and it was very impressive that we were able to get our report out so quickly."
"I know there are other big issues - people losing their jobs, the Euro zone and famine in Africa, but I've had more than 400 e-mails and letters about phone hacking - people wanted answers on these important questions."
"And be you ever so high, you have to account to the people."