Sunderland man takes roundabout way of getting a job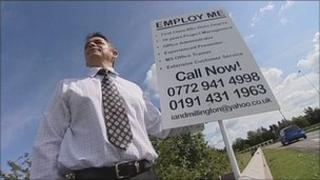 There's no doubt it's a tough job market out there. But one man from Sunderland has decided to take drastic action to find work.
Ian Millington has whacked his CV onto a placard. And he says he will be flourishing it at a roundabout in Sunderland indefinitely until someone offers him a job.
It sounds mad. After all most people make do with scouring the situations vacant or sending off letters.
But Ian should know a thing or two about finding employment - his last paid work was with Job Centre Plus, advising the jobless on how to find work.
Promoting his talents
He says that he frequently advised his clients to do something similar.
Ian said: "You can ask my clients, and I did tell them to do this. My colleagues said I was crazy, perhaps I am, but it's about putting yourself out there.
"It gets cold towards the end of the day, but needs must."
Ian is not short of qualifications. He has a first class honours degree and a mountain of experience.
But he has found it a struggle to find a new job.
On the dole
He began trying 18 months ago when he knew his contract with Job Centre Plus was going to run out.
He had spent eight months on the dole before that, and did not want that to happen again.
He's sent off hundreds of CVs and application forms. He has had a few interviews but no job offers.
So this week he decided to follow his own advice and try the placard ploy.
Ian has stationed himself on a busy roundabout on the main A1231 into Sunderland at the junction with the A19.
He stands there during morning and afternoon rush hour with his qualifications and contact details on a placard.
Job offers
He has armed himself with a big umbrella and waterproof leggings, but otherwise is exposed to the elements.
And although there has been the odd insult, he has also had some offers which could lead to work.
Some were for painting and decorating jobs, others for potential opportunities in sales.
He said: "It's not my area, but I am prepared to be flexible."
I suppose there are two ways you could look at Ian's actions - a sign of how desperate the job market is at the moment, or a tale of how some individuals are more motivated to seek work than others.
One other curious irony is that Ian is now signing on at the job centre where he used to work.
If a few days or weeks on roundabout duty can end that, he will be pleased.
And he says he is happy to continue indefinitely, and says he will advise his partner to do the same if she cannot find a job when her existing post comes to an end in three months' time.