Hawker family arrive in Japan for verdict on Tatsuya Ichihashi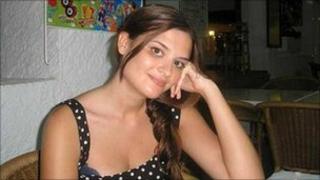 The family of a British teacher who died in Japan has flown back to Japan ahead of the sentencing of the man who has admitted killing and raping her.
Lindsay Hawker, 22, from Brandon near Coventry, was found in a bath filled with sand at Tatsuya Ichihashi's apartment in March 2007.
He admitted raping and strangling her but said he did not intend to kill her.
Arriving in Japan, her father Bill said: "We expect to get the judgment we are hoping for."
Verdict due
Mr Hawker, who arrived carrying a photo of his dead daughter, flew into Narita airport with his wife Julia, and daughters Lisa and Louise.
Ichihashi, 32, made his admission at the start of his trial.
The defence said he had tried to revive Miss Hawker after accidentally suffocating her in an attempt to stop her from crying out for help.
A verdict and sentence is expected from judges and jurors at Chiba District Court on Thursday.
The crime potentially carries the death penalty but prosecutors have yet to enter a sentencing demand.
Miss Hawker was persuaded by Ichihashi to go back to his apartment after giving him a private English lesson.
He went on the run after police found her body, at one point fleeing past officers as they questioned his neighbours.
Ichihashi evaded police for more than two years despite a nationwide manhunt, in which a reward of 10 million yen was offered for tips leading to his arrest.
He was eventually arrested at a ferry terminal in Osaka in November 2009.