High speed rail plans condemned as high cost option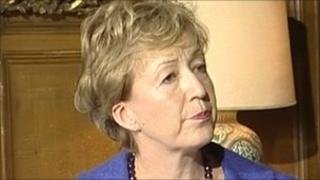 There's a significant risk that High Speed 2 will become the latest in a long series of government big project disasters. So says the Institute of Economic Affairs (IEA) in their new report that Andrea Leadsom MP has helped launch.
"The case simply does not make economic sense," she told the well attended launch meeting. "The more I get to know about it, the more against it I am."
She conjectured that most MPs had spent "less than 10 minutes" considering the plans that, at a stupendous £30bn, would cost every tax payer £1,000 each.
The consultation period for High Speed 2 (HS2) finishes at the end of the month. Many in the room believe the plans should not simply go through on the nod.
Huge investment
"It is simply not good enough to 'suck it and see'. One of the key issues for parliament is to focus on this huge investment - £30bn," the Conservative MP for South Northamptonshire said.
"The cost is key. The money could be spent on the north in another way."
Iain Stewart, the Conservative MP for Milton Keynes South and a member of the Transport Select Committee, also sounded a note of caution.
"It's not just about putting a high speed line in. The key is how it is connected to the existing network."
He said it was a very helpful report and added: "I will not support this if it does not deliver extra capacity and services and it must be affordable."
Labour's Geoffrey Robinson (Coventry North West) was somewhat more succinct.
"This is a god-awful waste of national resources. The worst I've ever seen in parliament," he said.
Andrea Leadsom wound up: "The argument that it will free up capacity on classic lines is not necessarily the case. With increased freight and fewer stops we could end up with worse local services.
"There are big questions that still need to be answered. Is the price of HS2 justifiable?"
That argument has a long way to go.