Accused mother Fiona Donnison 'threatened by her ex'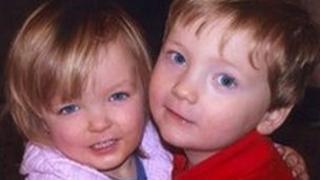 A mother told police her former partner had threatened to kill her days before she allegedly suffocated their two children, a court has heard.
Fiona Donnison, 45, claimed Paul Donnison, 48, also assaulted her at the former family home in East Sussex.
Lewes Crown Court was told he said: "If I haven't got my children, I haven't got anything. I will kill you and we will go together."
Former City of London worker Ms Donnison denies two counts of murder.
Ms Donnison had been renting a house in Lightwater, Surrey, since leaving the children's father in September 2009.
The jury heard police interviewed Ms Donnison at Lightwater police station after the alleged assault but she said she wanted advice from the domestic violence unit and did not want Mr Donnison arrested.
Eight days later, Ms Donnison is alleged to have killed three-year-old Harry and two-year-old Elise.
Their bodies were found zipped up in separate holdalls in the boot of her car near the former family home in Heathfield on 27 January last year.
Prosecutors claim she killed them in order to hurt Mr Donnison in the most extreme way possible following the breakdown of their relationship.
Pc Corrina Last told the court Ms Donnison showed her a small cut on her thumb during the police interview.
"She also told me that she had red marks on her arm but that they had gone by the time she saw me," she said.
Pc Last said she asked Surrey Police domestic violence unit to contact Ms Donnison but as the alleged incidents happened in East Sussex, the matter was passed to colleagues at Sussex Police to investigate.
Health visitor Nicola Learmount said Ms Donnison arranged for her to visit the day after the police interview.
"She seemed rational and was planning the future for her children and herself," said Ms Learmount.
"She told me about what had happened the previous weekend," said Ms Learmount.
"She did say at some stage that he had threatened to kill her."
Ms Donnison went to Heathfield police station on 27 January and told police she had killed the children.
'Toxic' levels
Toxicologist John Slaughter, from the Forensic Science Service, said Ms Donnison had "toxic" levels of the drug diphenhydramine in her system at the time.
The drug is a key ingredient in Nytol. Donnison is believed to have bought one packet of Nytol the night before she allegedly killed the children and two packets the following morning.
Mr Slaughter said he could not say how many tablets she had taken, but he said that no drugs or alcohol were present in either Elise or Harry's bodies.
The case continues.