Paul Carter advises schools not to apply for academy status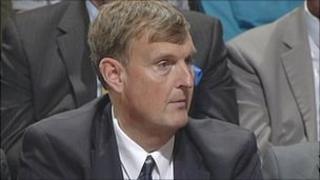 It's not the first time the Conservative Leader of Kent County Council, which has the largest education department of any local authority in Britain, has clashed with the Education Secretary, Michael Gove.
In fact it's becoming a fairly regular occurrence.
Earlier this week Michael Gove announced he wouldn't be reinstating a string of school revamps, which the High Court said he scrapped unlawfully.
He had been ordered to look again at his decision to axe 58 school rebuilds in six council areas, including Kent County Council, on the grounds that he failed to consult them.
Clash over schools
But Mr Gove has only agreed to meet the councils' costs.
And the clash between Paul Carter and Michael Gove over education goes back much further than that.
Before the last election - in April 2010 - Paul Carter warned that his party's commitment to allow parents to set up schools would mean other council run schools losing money.
His criticisms were seized on by Labour, with Schools Secretary Ed Balls saying Councillor Carter's comments had "let the cat out of the bag" and revealed how the policy would mean budget cuts to council run schools.
But at the time Michael Gove said there was no disagreement and Paul Carter backed his policy on Free Schools 100%.
Academy status
Until now it's appeared that Paul Carter has backed Michael Gove's other key education policy - that of schools becoming academies.
In fact in November last year Paul Carter suggested that all secondary schools in the county should consider becoming academies.
He said it could end concerns over whether schools which chose not to pursue academy status might lose out.
But now in a major u-turn he has emailed all head teachers in Kent to update them on his thoughts on academy status.
In it he says that when the Secretary of State for Education introduced his new academy model back in May 2010 he said academies would enjoy certain freedoms.
They would be able to set their own pay and conditions for staff; control their budgets; set opening times and would not have to follow the National Curriculum.
He also said it was clear that academies converting in 2010 would receive an improved financial settlement, than if they had remained under local authority control.
Two tier system?
He goes on to say that, although that he originally suggested it could be in the best interest of schools in Kent to become academies, the situation, over a year later, looks very different.
He says: "The additional funds given to converting academies are drying up, so those schools still to convert will have a lower budget."
He warns that this could create a two tier education system.
He continues by saying that: "A further concern is how the school landscape of Kent, which offers maximum parental and pupil choice through its wide range of school types, may be affected after future general elections.
"One needs to consider very carefully who may be in charge of national government in the future; without being too political, schools need to think long and hard about what impact a future change in government might have on their status and if they will be able to retain their unique ethos and character, when they are under the control of the Secretary of State."
Change of heart
He concludes by saying that his view is that:
"You should not need to become an academy to benefit from the freedoms outlined at the start of this letter - these advantages are available to all schools, and for those of you who do not wish to become academies there is further support available by remaining with the local authority."
It's a significant change of heart by Mr Carter and again sets him directly at odds with the Education Secretary who is keen for as many schools as possible to convert to academies.
It's also, I imagine, very confusing for head teachers - initially they were being actively encouraged to apply for academy status and now appear to be being told it's not the best way forward and they can have as much freedom by keeping the status quo.