Allowances are curbed at 'gravy train' Merseytravel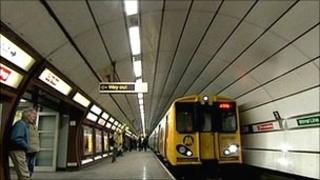 Are the wheels coming off what's been dubbed the "Merseytravel gravy train"?
Merseytravel is the authority which co-ordinates public transport across Merseyside.
It is the only local authority in the country where councillors still set their own allowances.
Not only that but councillors claim multiple allowances depending on how many committees they sit on, rather than one overall payment.
Professor Jon Tonge, head of politics at Liverpool University, says that's unique: "You or I might like that in our jobs, but it just isn't the reality in any other walk of life."
Allowances
The Liberal Democrats are running a concerted campaign to reduce what they consider to be a blatant milking of the system.
In June we reported on how Merseytravel voted to increase their allowances a little more.
A new post was created of deputy chair of the women's forum, paying out a further £3,688.
It means there are a total of 35 posts. Thirty one of those are shared between 13 Labour councillors.
Allowances alone, that's without expenses, come to just over a quarter of a million pounds.
The chairman, Labour Cllr Mark Dowd, claimed £47,665 in allowances last year. That's for chairing several different committees.
He has consistently refused to discuss the arrangements but his office insists it's a full time job.
Reforming the system
However things appear to be changing.
On Wednesday Liverpool councillors voted to recommend accepting only one special allowance from Merseytravel, plus the basic.
That decision is not binding.
But the Deputy Chairman of Merseytravel, Cllr Alan Dean, has told me he expects all five Labour councillors in Liverpool will accept that.
He previously told me: "Eighteen months ago we decided the system wasn't appropriate and we needed to do something about it."
He thinks the Lib Dems are being mischievous by suggesting Labour is opposed to reform. But it's certainly taken some time.
The Lib Dem Leader on the Transport Authority, Cllr Andrew Makinson, has been pushing for reform: "There are many people across Merseyside who would be grateful for just one job.
"Labour Councillors in Liverpool have been forced to face the public anger at their allowances scandal, and have finally been shamed into taking action."
The Lib Dems claim the move will save about £25,000 in allowances.
It is now for councillors in Sefton, Knowsley, Wirral and St Helens to decide if they're travelling in the same direction.