Severn Valley Railway dance marks Cultural Olympiad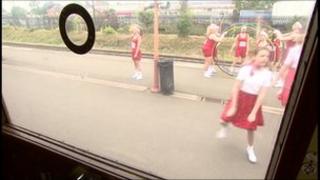 About 300 people have danced along the route of the Severn Valley Railway for the start of the Cultural Olympiad in Worcestershire and Shropshire.
They enacted dance and mime sequences along the route on Saturday based on an Alfred Hitchcock thriller.
It was part of a national Dancing for the Games project for the official countdown to the London 2012 Games.
Worcestershire is due to host the Olympic torch next May as its travels to London for the opening ceremony.
The Great Train Dance set off from the Severn Valley Railway station in Kidderminster and terminated at Highley Station in Bridgnorth, Shropshire.
Poetry relay
Passengers were invited to engage with clues provided by the dancers to solve a mystery before they reached their destination.
In addition a poetry relay was arranged at multiple locations in Staffordshire, Worcestershire, Warwickshire and Shropshire on Saturday as part of the West Midlands region's contribution to the Cultural Olympiad.
The 10-man relay began in Stoke-on-Trent where the first poet performed the start of a collaborative poem, which each subsequent poet added to.
Once the whole poem had been performed racing pigeons were due to be released to carry the 10 poetry segments back to their loft in Birmingham and the order in which they arrived would determine the final form of the poem.