Warning as Devon and Cornwall tourism travel starts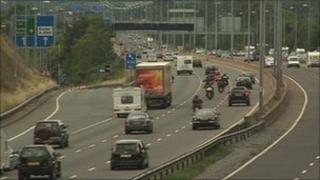 Drivers in Devon and Cornwall are being urged by police to be careful on roads on what they classify as the first full weekend of the tourism season.
At peak times, southbound traffic on the M5 near Exeter can reach about 5,000 vehicles an hour.
Delays were caused on one main road in Devon when a caravan overturned on the A30 near Okehampton on Saturday morning, causing tailbacks.
Police also urged motorcyclists to be careful after three recent road deaths.
'Very, very busy'
Over the next six weeks, the number of people in Devon and Cornwall is expected to swell from its usual of about 1.6m to some 6m people during the peak holiday period.
Police said that obviously meant an increase in the number of vehicles on the counties' 12,500 miles (20,100km) of roads.
Insp Richard Pryce of Devon and Cornwall Police said: "The roads do become very, very busy, and some a little bit congested.
"So we're asking motorists to be considerate, be careful and to think about planning their journey time."