Helicopter crash site near Bude in Cornwall searched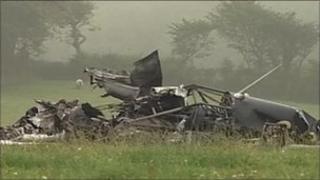 Air accident investigators are examining the wreckage of a helicopter in Cornwall for clues about what caused it to crash, killing its male pilot.
The privately owned aircraft went down in a field in a remote area about five miles from Bude on Sunday afternoon.
The helicopter "narrowly missed" a nearby house and caught fire when it hit the ground.
The man who died was from the Bristol area and is believed to have been in his 40s.
Lisa Congdon, who witnessed the crash, said: "There was debris on the road, so it could have caught a car.
"Luckily there were no animals in the field and it narrowly missed a property so it was lucky it didn't cause any more damage, but it is shocking."
The crash site, between Marhamchurch and Week St Mary, remains cordoned-off while investigations by Devon and Cornwall Police and the Air Accidents Investigation Branch (AAIB) continue.
Superintendent Julie Whitmarsh, from Devon and Cornwall Police, said: "The main thing for us is to try to establish what happened.
"What's critical is, if people saw the helicopter, or think they may have seen it, for them to contact us."